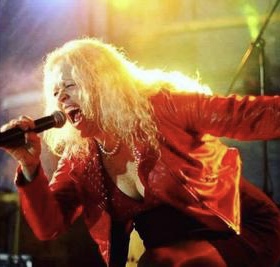 Bridget Kelly Band
Dynamic blues vocalist and singer-songwriter Bridget Kelly continues to distinguish herself and her outstanding band on her new record Winter's Coming. Available now on Alpha Sun Records, the set is full of brand new original songs and is dedicated to Bridget's father Peter John Kelly, Sr., who passed away in 2021. It touches on several styles of blues, rock and roll, and American roots music and shows Kelly to be a skilled performer and interpreter of those sounds. Backed by her husband/guitarist/producer Tim Fik, drummer Curtis Lyons Jr., and bassist Greg Mullins, Kelly elevates herself and her musicians into exciting, memorable performances that quickly explain her continuing popularity. She's not afraid to cross genre lines, mix vibes, or aim for anything less than achieving her unique vision for this music.
Based in Florida, the Bridget Kelly Band has done a bang-up job of building a following and rocking houses everywhere they go since first coming together in 2012. Since that time, Kelly has dropped six Top Ten RMR-charting records, been a two-time IBC Semifinalist in 2015 and 2016, and has toured from Florida to Minnesota and Maine to Colorado. Bridget is also a tireless advocate for blues women everywhere. She sponsors Women in Blues showcases around the country and makes it her mission to highlight the contributions of female artists. Kelly is well-known as one of the hardest-working people in the business and has made an impact on it from her start.
The first thing you hear when you start to play Winter's Coming is a saved voicemail message from Bridget's father that gives away the origins of the record's title. It makes you feel a little more connected to Kelly's songs even before you get to them. She then follows that up with not one but two title cuts in a row, "Winter's Coming Blues 1 and 2." The first version is a more contemporary type of blues shuffle that features Kelly's sultry vocal tones and some fleet-fingered guitar work from Tim Fik. The second version is a rocking shuffle in the traditional style. The songs are different from each other but share titles and the topic of winter's dreaded cold. Kelly is originally from Wisconsin, so she knows about the cold firsthand, which could well explain starting off this way. Done with winter, Kelly leads her band into the chugging funk/rock of "Whirlwind." She belts her lines over a groove as big as Texas and more hot guitar work from Tim Fik. He's got his own sense of melody that's fresh and original and he makes the most of every guitar break. "Heartbreakin' Blues" is a dance floor hip-shaker that grinds out a story of a woman done wrong. You can feel the tension in every part of the tune, from Kelly's spite and scorn to the relentless drum part. "It'll all catch up with you," she tells him and it's clear that she means it. Once again, Fik snarls on lead guitar.  The BKB gets deep into the funk again on the mid-speed "I'm http://www.bridgetkellyband.com/Lucky." Their pocket is sinfully sweet and it's obvious that the band excels at this kind of ensemble playing. Kelly's voice is confident and full of life here and all across Winter's Coming. Other top moments on the set include "Crazy Thang," "Out Of Time," and "Poor Girl."
The Bridget Kelly Band is a group that belongs on your screen, if they aren't there already. They have the songs and the style needed to succeed and you're going to hear a lot of these cuts blowing up throughout the year. Highly recommended.
http://www.bridgetkellyband.com/