Madams Organ opened Halloween of 1992 with its first stage act, The Bobby Parker Band. There was a line down the street on night one, and to be honest it hasn't let up yet. Little did owner Bill Duggan know what he had started when he brought the idea of Chicago Blues, live music, intimacy, and comfort to life in what the world now knows as Madams Organ. After almost 30 years in business, Bill says he thinks he achieved his goal of creating a place everyone, no matter their status, could feel comfortable and at home in.
Our name is a play on words from the neighborhood "Adams Morgan". A little history about our neighborhood dates back to 1954 after the U.S. Supreme Court Brown vs. Board of Education ruling declaring segregated schools unconstitutional. After the ruling residents and officials of the community formed the Adams Morgan Better Neighborhood Conference uniting 4 neighborhoods and 2 existing neighborhood schools, Thomas P. Morgan, an all-black school, and John Quincy Adams Elementary, an all-white school. Hence the name Adams Morgan. Over the years the neighborhood has undergone many changes but one thing that has sustained in the quirky place is the plethora of eclectic bars, diverse people, a wide range of entertainment, and really fuckin' good food!
"a bunch of naked women and dead animals…is there a better combination"

-Bill Duggan
A lot about what makes Madams the place to cut loose is the urban junkyard style decor.
"a bunch naked women and dead animals…is there a better combination" -Bill Duggan
But seriously as you roam the 3 levels and explore the 5 different bars you'll find historic newspaper articles, uniquely placed antique paintings, taxidermy representing species from all over the world, and a lot of signage worthy of pulling out your phone and snapping a picture for your friends. When it comes to our decor, there is no theme, don't stress yourself trying to figure it out. When we find interesting things that deserve to be on display, we find a place on the wall for it!
Speaking of things on the wall, did you see the set of tits outside? The Madam Mural draws crowds from all over the world to our sidewalks just to stare, but how could you not? With a 35 ft mural of a fiery red-haired Madam sporting 13 ft bulging breast, it's hard to notice anything else. As much as we love our very own mascot "The Madam", some people love to hate it! The Madam has been under fire because of her oversized boobage by the Department of Consumer and Regulatory Affairs but at the end of the day, she's an artistic expression that lives to see another day.
The Heart Of Adams Morgan
    Although we like to make money, we take much pride in adding a different type of value to the neighborhood. As a family-run business that has witnessed the continuous gentrification of the community, we aim to be a welcoming neighbor instead of everything being about the dollar. A big part of our efforts to keep the community connected is through the neighborhood children. When the changes in the neighborhood started happening so quickly, the kids weren't welcomed in most establishments and felt out of place. Owner Bill Duggan, wanted the kids to know this was still their neighborhood and in efforts to do so, opened the doors of Madams Organ to the kids, providing them a place to go after school for chicken wings and french fries and building relationships with the staff.
"We want the youth to have pride and look after their neighborhood…as they thrive, we thrive, the neighborhood thrives, and the city thrives"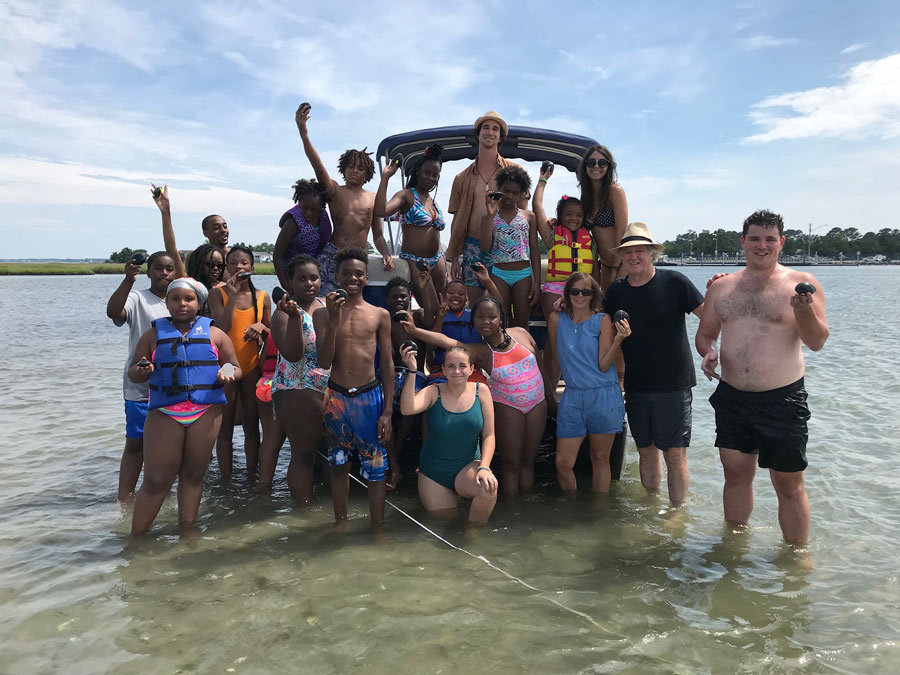 "We hope and believe places like ours contribute to people getting along."

-Bill Duggan
Madams Outreach has grown into annual summer kids retreats for Adams Morgan youth, as well as annual Christmas Parties for the children and staff. Madams has been known for hosting Non-Profit happy hours, wakes for people in the community, as well as contributing to the annual Adams Morgan Day festival. We strive to make money yes, but we also strive to unite everyone who walks the streets of Adams Morgan, that is why we pride ourselves on being the Heart Of Adams Morgan.